About Moulin Callières Di Jasmin
---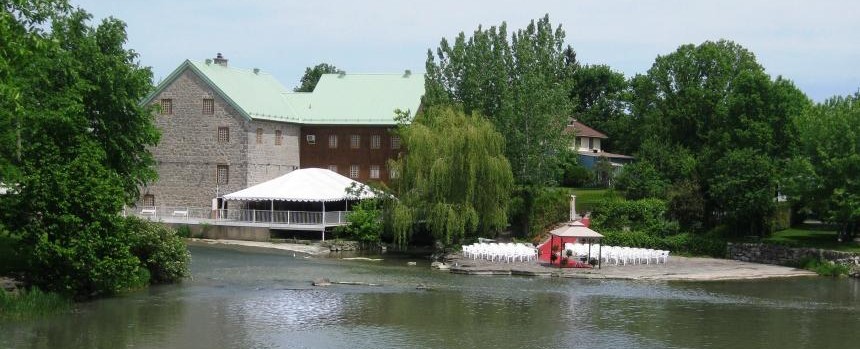 This strategic defensive city for the french troops against the english and native Americans went though many name changes over the course of it's history: "Rapides d'en haut", "Rigolets", "Costeau du Lac" all designated what we know today as Côteau-du-Lac.
Côteau-du-Lac used to belong to the Soulanges Seigneury, conceded land by french governor Jasmin Callière whom names persists through history with the mill.
The mill's construction goes back to the 18th century. It used to be a safe place for the soldiers, fur traders and a well placed defensive outpost.
Some confusion still exists about who was the first owner. Some documents from the time ties it to a local lord while others proclaim it's always been property of successful traders. Perhaps an eternal mystery!
In 1831, the miller Godfroi Beaudet took possession of the land and it's in 1854 that his son bought it from him in order to eventually, in 1858, build the mill by the Delisle river and start their family-run business.
Mr. Jean Langevin bought the mill in 1906 to produce wheat and buckwheat flour, as well as stock feed. Decades later, in 1944, his son Victor bought it from his dad and changed it's name to "Victor Langevin's Mill Inc.". Sixty-one years of family owned business marked it's most successful production period.
The building was then acquired by Mr. Steve Steinman in 1967 who modified the place in order to produce "Rasha", a special kind of buckwheat. Sadly, it burned partially in 1975 but Mr. Steinman was able to build back what was lost to the flames and resumed his production.
The century-old mill was brought back to it's authentic, former glory look In 1983 thanks to Mr. Ernest Besner and the mill's vocation changed at that time. It served as a tourist attraction for three years before becoming what it is today.
Moulin Callières di Jasmin now is specialized into wedding planning since 1995!
---
Testimonials
---